On Wednesday, June 21, AltaClaro made its debut appearance in The American Lawyer (cross-published in New York Law Journal) with Meghan Tribe's story, "Ex-Big Law Associate Sells Experience With Legal Startup," featuring an interview with CEO & Founder, Abdi Shayesteh.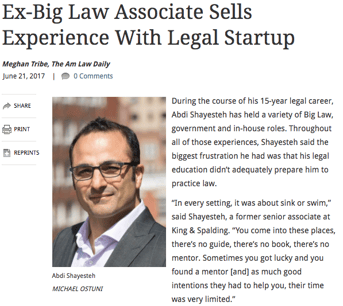 The article details AltaClaro's origins, beginning with Abdi's persistent search during his own 15-year legal career for more effective training and mentorship, and extending to the company's recent partnerships with New York-based international law firms Cohen & Gresser and Richards, Kibbe & Orbe to produce live, interactive CLE webcasts on urgent and trending topics for in-house counsel, compliance professionals and BigLaw practitioners, alike.

It also highlights the growth of the AltaClaro team and explores the variety of subject-matter expertise training and practical, "soft skills" coaching the company aims to make available to attorneys and legal professionals of all backgrounds.
To read the full article, click here.